Early detection of anomalies, mobile access to data due to cloud-based machine monitoring.
Mountain rails and lifts: our offering
| | |
| --- | --- |
| | Stable operations: thanks to 24/7 continuous condition monitoring and health prediction |
| | Maximise component lifetime: exploit the remaining useful life of components thanks to artificial intelligence (AI) and reduce waste |
| | Simple and safe operation: thanks to its intuitive, user-friendly and user-needs-based web-interface |
| | Integration into your system: present analysis result in your control system, e.g. show trends in Remec's Sambesi |
| | Highest level of data protection: autonomous and passive AI-system, independent of your IT or control software |
Cost benefits: amortization of the Mechmine solution in 6 to 18 months
A cable car in the Swiss mountains stops operation for 28 days due to a gearbox failure during the winter season. On average, they sell beyond 100 day-tickets at CHF 100 and every guest usually consumes another CHF 40 or more in the restaurants. This accumulates to a revenue loss of CHF 336'000 during the standstill. Add to this the costs for the repair of well over CHF 25'000.

Mechmine technology
Mechmine increases your plant availability by moving from condition monitoring to predictive maintenance. Determine the time of maintenance and repair yourself. Monitor bearings or gears in critical maschines successfully. Mechmine offers a secure retrofit turnkey solution – access from anywhere, anytime and comprehensible to everybody.
Continuous monitoring & forecasting, 24/7
From condition monitoring to predictive maintenance
Increase plant availability
Turnkey solution, everything from one source
Highest data quality & data analysis performance
Optimized hardware for slow-turning machines
Special vibration sensors for slow-moving machines
Allows early detection of upcoming defects and affected components
Intuitive user interface
Appropriate visualization through several levels
Traffic lights – trends – details
Data and trends can be displayed in the Sambesi
References and examples
Cable-car in Elm, Switzerland
Funicular and group cable-car in Niederhorn, Switzerland
Funicular in Davos Parsenn, Switzerland
Funicular in Bad Wildbad, Germany
Exemplary illustrations
Mobile access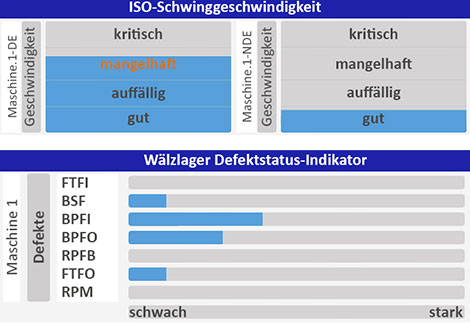 Dashboards
Early detection of anomalies