Water treatment plants use redundancy to increase plant availability, specifically process continuation, which is costly and space demanding.
Water treatment plants: our offering
| | |
| --- | --- |
| | Stable operations: thanks to 24/7 continuous condition monitoring and health prediction |
| | Maximum component lifetime: exploit the remaining useful life of components thanks to artificial intelligence (AI) and reduce waste |
| | Simple and safe operation: thanks to the intuitive and user-friendly interface |
| | Integration into your system: present analysis result in your control system, e.g. show trends in Remec's Sambesi |
| | Highest level of data protection: autonomous and passive AI-system, independent of your IT or control software |
Costs – benefits: amortization of the Mechmine solution in 3 to 20 months
In waste water treatment plants (WWTP), plant availability, strictly speaking process reliability, is traditionally achieved through redundancy. This comes at a price: each machine in multiple versions means more space and higher investment costs. The cost of an additional process line, i.e. increased redundancy, can be estimated at around CHF 1 million and is subject to capacity. Another example: if the sludge stacking time in an WWTP is 72 hours, then there are three days left to get a subsequent centrifuge running after its breakdown. Depending on the type of defect, this is tight, e.g. if the manufacturer is located abroad. Here, of course, the sludge pile container could be enlarged or a spare parts depot could be established. Spare parts for a centrifuge, for example, easily tie-up CHF 150,000 in capital. A larger sludge container takes up more space and costs more. Alternatively, increased operational safety can be achieved using machine monitoring.
Mechmine technology
Mechmine increases your system availability by changing from condition monitoring to predictive maintenance. Determine the time of maintenance and repair yourself. Successfully monitoring bearings or gears in critical machines. Mechmine offers a secure retrofit turnkey solution – access from anywhere, anytime and comprehensible to everybody.
Continuous monitoring & forecasting, 24/7
From condition monitoring to predictive maintenance
Increased plant availability

Pumps, spiral pumps (slow runners)
Making cavitation visible
Centrifuges (fast runners)
Ventilators, blowers, gasmotors

Early detection of defects from each component
Utilisation of remaining useful life of components
Turnkey solution, everything from one source
Highest data quality & data analysis performance
Optimized hardware for slow-rotating machines like screw pumps
Optimized measuring device for slow-moving machines
Optimized hardware for high-RPM shafts like in centrifuges
Optimized algorithms for gears
Intuitive user interface
Appropriate and user-tailored visualization through several levels
Traffic light – trends – details
Data and trends can be displayed in any control system
References and examples
Frühzeitige Schadenserkennung in Kläranlagen
Langsamläufer mit Getriebe
Industriegetriebe für Schneckenpumpe
Doppelte statt dreifache Redundanz, verlängerte Wartungsintervalle
Exemplary illustrations
Mobile access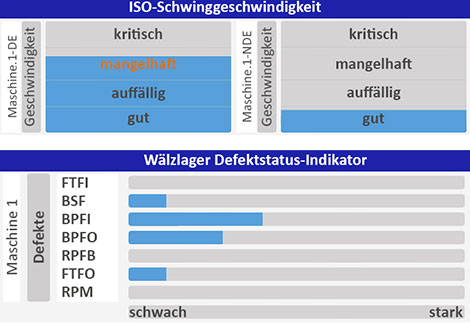 Dashboards
Early detection of anomalies